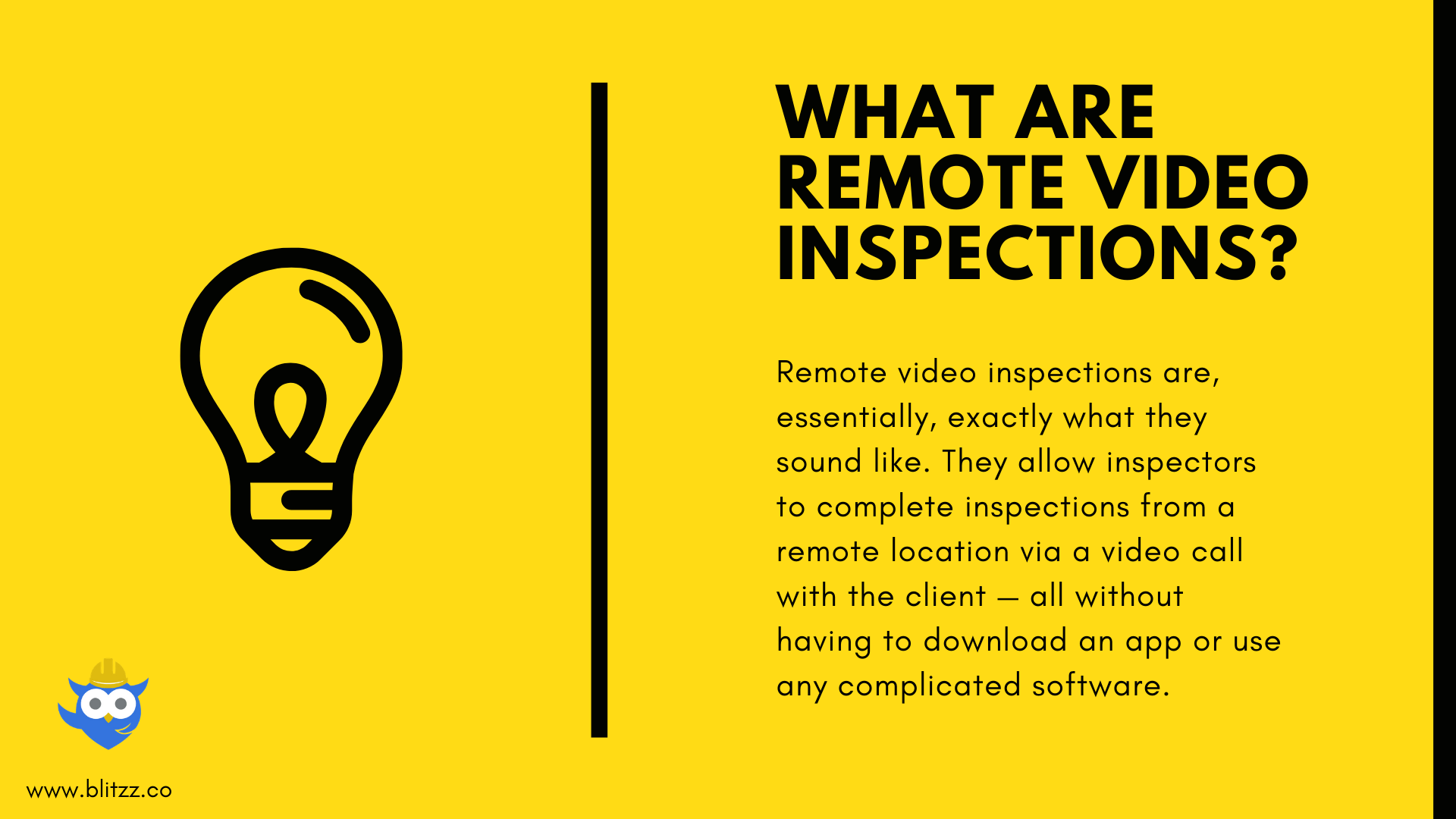 It's not unusual for inspectors to spend a significant amount of time on the road rather than actually performing inspections.
This industry-wide dilemma is not only inefficient and time-wasting, but it can also impact customer satisfaction, waste a significant amount of money, and the excessive travel is very harmful to the environment.
Fortunately, though, there is a solution: remote video inspections.
Remote video inspections make it possible for inspectors to quickly, effectively, and efficiently complete inspections without having to leave the office and spend hours on the road.
But what exactly are remote video inspections? How do they work?
Let's take a look at how you can use Blitzz remote video inspections to streamline the inspection process.
What Are Remote Video Inspections?
Remote video inspections are, essentially, exactly what they sound like. They allow inspectors to complete inspections from a remote location via a video call with the client — all without having to download an app or use any complicated software.
This makes it possible to completely avoid having to travel in many cases, and, at the very least, can significantly reduce the amount of travel your inspectors have to do on a daily basis.
Benefits
Remote video inspections offer a number of great benefits for businesses, customers, municipalities, and private inspectors.
These benefits include:
Save Time & Money: Inspectors spend about 20% of their time on the road. Not only is this a significant waste of time, but the travel expenses can also add up quickly. Remote video inspections help inspectors save an ample amount of time and money.
Ease of Use: Remote video inspections are incredibly easy to use. This helps ensure that clients are satisfied and that inspectors can complete their job without any hang-ups.
Customer Satisfaction: Customer satisfaction is incredibly important for private inspection firms. Remote video inspections can boost customer satisfaction by eliminating waiting times and by helping complete inspections more quickly.
Save Taxpayers' Money: For city inspections, costs related to travel are often passed on to the taxpayer. As such, remote video inspections can help save taxpayers' money.
Green: Not only is travel inefficient, but it is also very harmful to the environment. Remote video inspections can help inspectors drastically reduce their carbon footprint.
These benefits make remote video inspections a great option for city inspectors, private inspectors, and private inspection firms.
Related: Key features in selecting Live Video Assistance Tool for Your Field Service and Call Center Teams.
Blitzz Features
Of course, any remote video inspection tool needs to provide the resources necessary for inspectors to complete their jobs effectively.
At Blitzz, we have curated our platform to suit the needs of inspectors so that they have the tools to complete inspections just as easily as if they were doing it in person.
These features include:
Markup Tools
HD Image & Video Capture
Mobile & Web Screen Sharing
HD Video Call
Reporting and Analytics Tools
Moreover, clients don't need to download any app to get started. All inspectors need to do is send clients a link to start the video call.
Our remote video inspection platform offers all of the tools and resources inspectors need to effectively complete inspections while saving time and cutting costs.
How Do Remote Video Inspections Work?
The remote video inspection process is simple and designed to be easy to navigate for both the inspector and the client.
After the client schedules an appointment, instead of getting ready and driving to the location, the inspector can send the client a link for a video call.
Once the client opens the link, the video call will begin and the inspector can guide the customer through the inspection process.
The inspector can zoom in to get a detailed look, use advanced markup tools to make notes and point things out, capture images and videos for documentation purposes, and more. Inspectors can even remotely activate the phone's flashlight as needed.
Once the inspection is completed, the inspector can end the video call and move on to another inspection without needing to travel to a new worksite.
Try it Yourself
Of course, before adopting new technology, it's important to ensure that it meets your needs.
If you're interested in learning how Blitzz remote video inspections can help you streamline your inspection process, make sure to request a demo today!