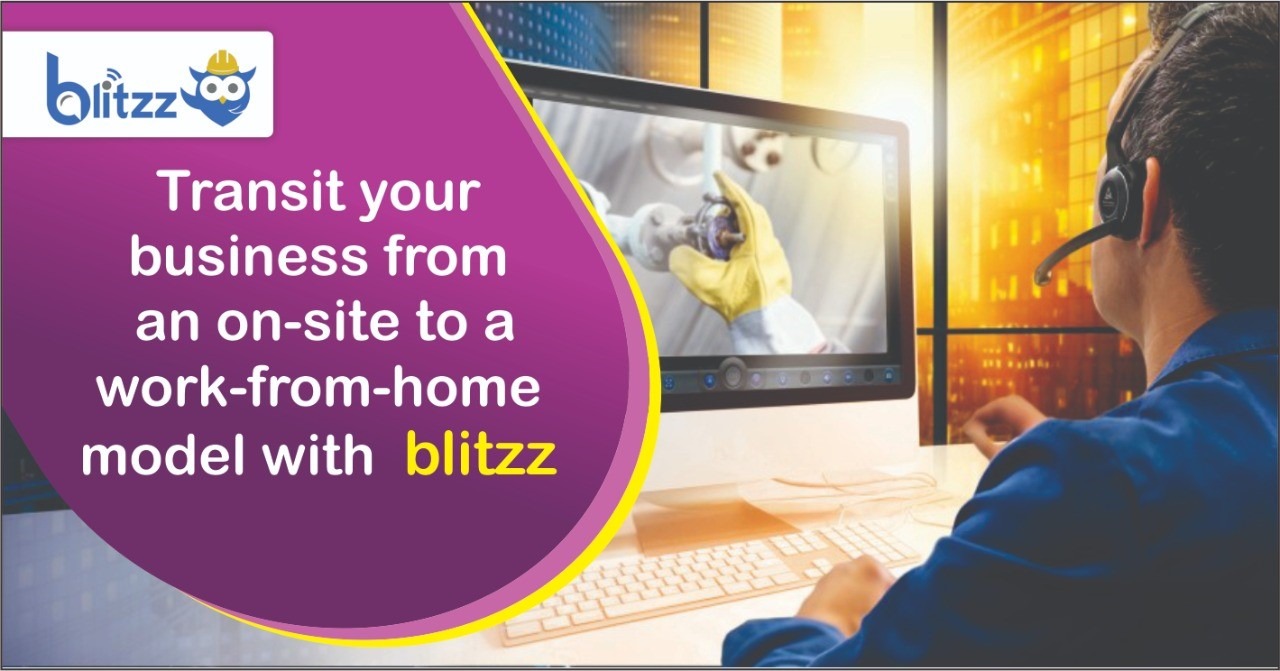 Businesses that depend on in-person visits install an equipment, repair, perform routine maintenance tasks, or evaluate the needs of a client have been affected by the Covid-19 pandemic. To make sure engineers and service teams can continue doing their jobs, companies are rushing to accelerate the transition of their field service business from an on-site to a work-from-home model.
At Blitzz, potential clients often ask questions like "What is remote video support software?" "How much does it cost?" "Before our company buys Blitzz, tell us what the investment could do for our business." And lastly, "How can we roll out remote visual assistance smoothly in our organization, in the shortest amount of time?" For those of you thinking of rolling out a remote field service business, we will provide answers to those questions in this article.
What exactly does a remote visual assistance software do?
A remote visual assistance software is a program designed to enable field service technicians and customer service agents to have visual access and better collaboration between two parties located in different places. Remote visual collaboration can take place between two parties in the same city, different cities in the same nation, and across two continents. All that is needed is an internet connection and a smartphone (tablet, desktop, or wearable).
This software works better than Skype or a WhatsApp call as it includes special features that allow users to markup, annotate, capture images, lift text with OCR technology, and more. Companies can also analyze performance metrics to gain helpful data-based insights.
What are some use cases for this software?
Remote visual assistance software can be used in both B2B and B2C use cases where a broken appliance or complex equipment at a remote location needs to be serviced. For instance,
In a B2C scenario, the problem may require a simple fix, such as a leaky pipe. With the cooperation of the customer, technicians can remotely guide the customer and resolve the issue. Problems that are more difficult to fix may require technicians to make an on-site visit but the initial video call can help technicians diagnose what the exact problem is and make the visit well-prepared to tackle the issue.
In a B2B scenario, problems are more complex requiring technicians to make visits on location. The use of wearables enabled with AR technology, in this use case, allows technicians to be hands-free. Technicians can pull out design plans, blueprints, manuals using voice commands. If needed, technicians can loop in a team member with more experience to help solve the problem faster, in real-time.
Blitzz can be used in different industries such as real estate, insurance, call center, manufacturing, auto mechanics, HVAC, plumbing, fire and security – any place that requires remote visual access, effective remote collaboration, enhanced by AR technology.
Considerations for your business
Start by writing down what your needs are as a business and the goals you hope to accomplish through the purchase of a remote video support software. What are the potential business outcomes you hope to achieve by using Blitzz? Who needs to be trained? How will using Blitzz help increase the potential to earn more business revenue? Save on costs? What kind of analytics are you looking for? Data insights? How would predictive analysis help to stay on top of issues even before they occur? How will ensure data security during live calls? A careful collection of this information can be useful to all stakeholders, particularly those who make purchase decisions.
Is the pricing within my budget?
Blitzz uses a subscription pricing model. Please fill out our form to request pricing.
We also offer a free trial without you having to fill your credit card details. Apart from competitive pricing, Blitzz offers several advantages over other remote collaboration software including an array of helpful features, and insightful reporting and analytics.
Do benefits outweigh the cost?
Here's a graphic illustration of the ROI experienced and reported by some of our customers.
How long will it take for my team to be trained?
Training technicians, even those who are not so tech-savvy, usually takes just one day. Blitzz has friendly features and is easy to get used to. Blitzz can integrate with many of the most popular apps and software in just one easy click. Deployment of Blitzz in your business process can take less than a week from the time of purchase
Conclusion
Blitzz will conduct demos for your teams to get them all on board, answer any questions you might have, and be available whenever you need further help.
Call us now to see how an intelligently designed software like Blitzz can increase field service productivity, enhance employing performance while driving potential revenue and lowering operational costs.