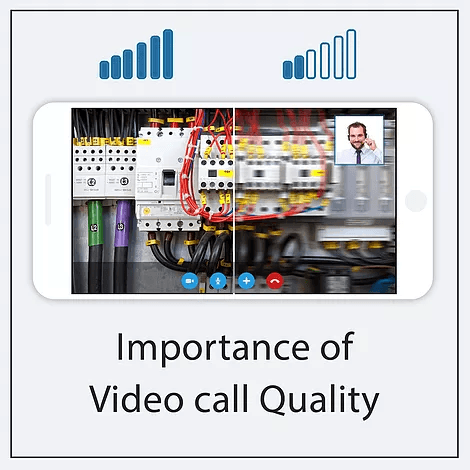 A video call is the closest alternative to an actual face-to-face meeting. As any human communications expert will tell you, visual cues are as important as the verbal dialogue. Facial expressions and body language sometimes speak louder than voice intonation. Video call is not a substitute to business travel, instead it a tool to make every meeting or conversation even more effective.
There are numerous benefits of a video call when compared to a regular phone call. A video call helps you gauge your audience, thereby helping you change the course of conversation if necessary. It enables you to hold the attention of your call attendees, engender trust and understand non-verbal cues which will help promote enhanced decision making.
It is not surprising, that businesses and organizations around the world are taking to video calling in a big way. However, if something were to deter the potential of video calling as a mainstream way of communication, it would be poor Video call
Why Video Call Quality Matters
Video call quality is key to a good user experience. You cannot expect people to embrace video calling in a major way if the experience of making a video call is a frustrating one. Companies like Blitzz, that specialize in augmenting video calling experience can help you make a smooth transition to the world of video calls
A typical video conferencing call comprises of voice, video and content sharing. Now each of these have their individual call quality metrics. If an organization that doesn't have access to a tool that can monitor these, it will find it difficult to ensure the desired video call quality.
There is also the provision of setting up your own call quality standards that can be adhered to by configuring notifications that alert about the times when call-quality is expected to be poor. The metrics could incorporate factors like Packet Loss, Latency and Jitter, which could be then graded according to performance.
Importance Of Using The Right Technology
Everyone who has a smartphone can make a video call using apps like Skype, WhatsApp, Facebook Messenger, and Google Duo. However, for business video conferencing calls, you need technology that is appropriate for a professional environment. Dropped calls and indifferent video quality can sound the death knell of any business deal. Using inadequate technology that does not ensure uninterrupted calling and great voice and video quality, does nothing to enhance the reputation of an organization.
Steps to Ensure Optimal Video Calling Experience
Optimal quality is critical for a video conference tool. Here are a few steps an organization can take to ensure that:
System Configuration – This is the very first thing that needs to be ensured. Every so often, what is associated to be a bad network related issue can be traced to faulty network setting configurations. That is something that can easily happen in the case of a large organization with a transnational presence.
Plan The Capacity According To Usage – If there is a certain period in time when you expect a substantial increase in the number of calls, you have to be prepared in terms of system capacity to handle the calls. This is a simple and painless method to avoid instances of poor call quality.
Frequent Quality Checks – It might be a good idea to monitor the calls on a regular basis and check for issues like call drops. Regular tracking will also make it possible for one to identify potential areas of trouble, particularly with regard to the networking equipment.
Regular System Updates – Continuous Quality Improvement is the key to a successful business. Performance reports pertaining to the different systems deployed across your premises should be evaluated frequently. You may need to augment or curtail systems based on usage or volume of data.
Network Bandwidth Optimization – A professional video conference call cannot afford to suffer from buffering issues. An appropriate amount of bandwidth must be allocated for calls to occur without a hitch.
On an average, an organization with a hundred internet users, can expect five calls to happen at any given point in time. It would be wise to make an extra ten percent allowance to account for call signalling as well as packetization. In so far as individual person to person video calls are concerned that will call for 2 Mbps down and 2Mbps up bandwidth for both the participants in the call.
Video Calling – A Game Changer.
Video calling is more than a mere phone call with moving images. It has the potential to transform industries, if deployed the right way.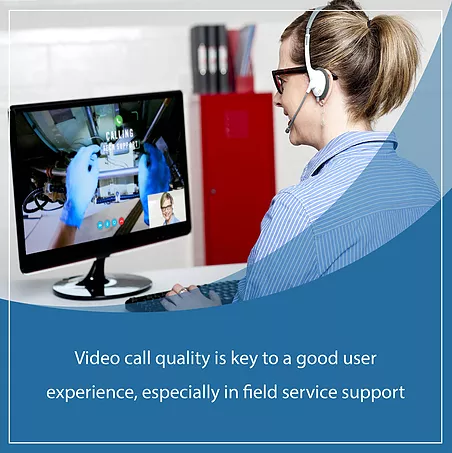 Construction Industry – The workers at the site can send back visuals of the work accomplished by them and also get inputs about any issues that they might be facing. Something like this would be inconceivable in the case of a conventional voice call.
Wellness – With our health services stretched as they are, videoconferencing is a great way of reaching care to a larger number of people. At the same time doctors and other healthcare workers can also receive training and augment their skills with the help of video calling/conferencing.
Retail – One of the most frustrating parts of the retail buying experience is the fact that in the event of a defect in the product purchased, the buyer is often not able to get a solution from the customer service desk on account of his or her inability to precisely explain the problem on the phone. If your TV has an issue and you can show it to the customer service representative on a video call, the issue might just be resolved in a quicker and more efficient manner.
Education – Video conferencing can be a great blessing in education. It enables the best instructors and teachers to give lessons to an audience beyond their classrooms. That apart, it can make learning more fun. They could be shown museums, distant cities, mountains and oceans via video leaving a lasting impression on their minds.
Video calling is slowly and inexorably finding its rightful place in society as a major game changer. The only thing that stops it from becoming ubiquitous is that call quality is not uniformly excellent. Stellar quality is what will lead to the full utilization of the potential that video/conferencing has.
New technologies like virtual and augmented reality, create an immersive environment for the people participating in a video call. If executed correctly with impeccable quality standards, Video Calling is the future of communication.