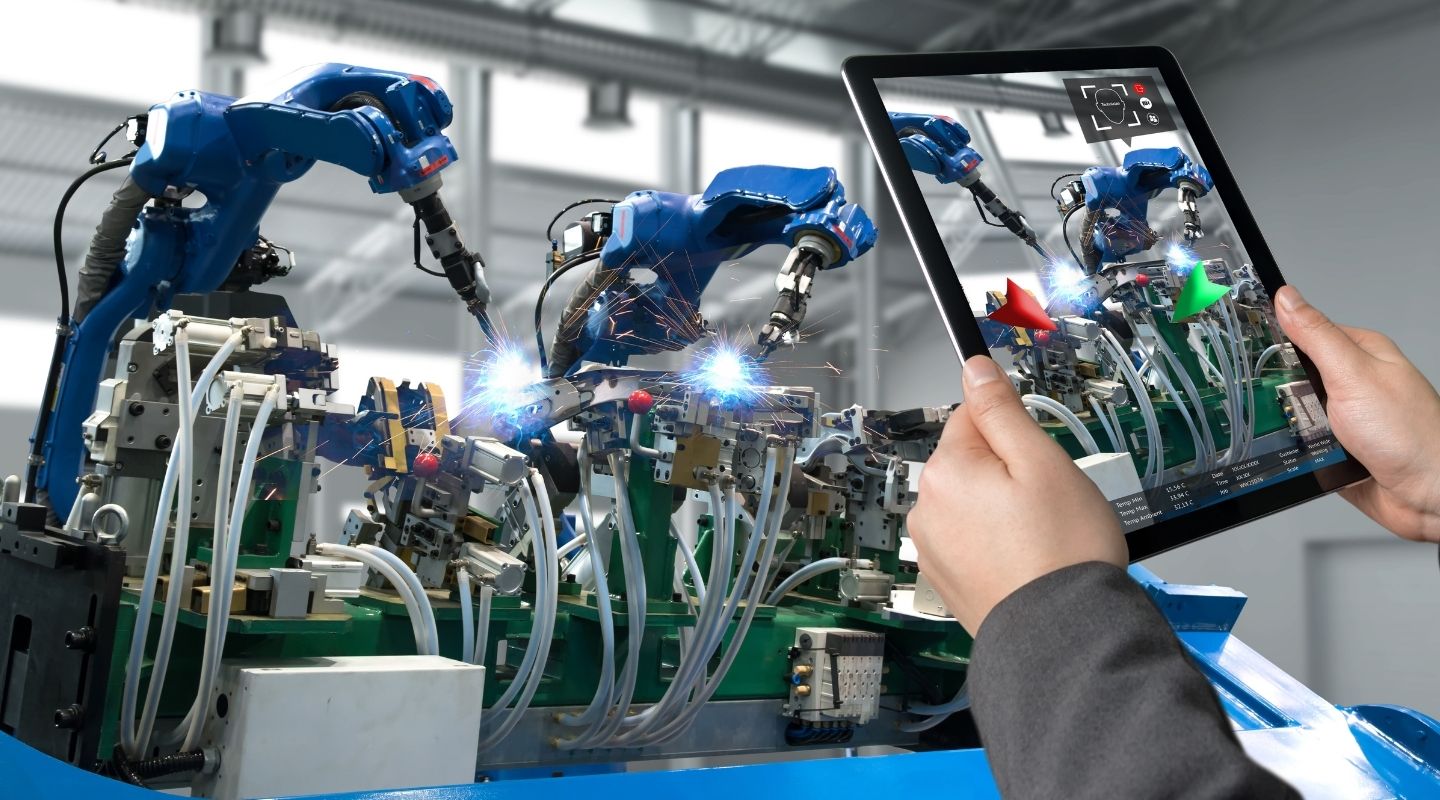 With a global health crisis in 2020, the demands to empower a remote workforce skyrocketed. Customer service is just one of many industries that found themselves in need of technology that would make remote customer service not just a temporary solution, but a permanent staple to the enterprise.
For many companies, providing service for their customers often meant rolling a fleet of trucks. Being able to replace on-premises visits with remote tools that deliver the same outcome faster, and with a better customer experience, is key.
But how much does that kind of remote customer service technology cost today?
Remote Customer Service Technology Pricing
The term "remote customer service technology" is a nebulous one. There are a ton of different kinds of apps and software, all with vastly different capabilities that could claim to be customer service tech.
It's most likely your company will implement a variety of tools in a customer service tech stack. So, to answer how much it costs, we will need to explore the main categories of tech that might end up in that tech stack.
Visual Customer Service
Providing remote customer service in many sectors is difficult without a visual component. When technicians are in the field and need support, or when a customer has a complex issue, not being able to see and guide the customer visually makes providing a great support experience improbable.
That's why many companies still rely on truck rolls and sending a support professional physically to the customer. But with truck fleets being bad for the environment and some social distancing requirements continuing into the future, companies are looking for an alternative. Thankfully, there are visual remote customer service tools you can use to be more efficient and effective when supporting customers.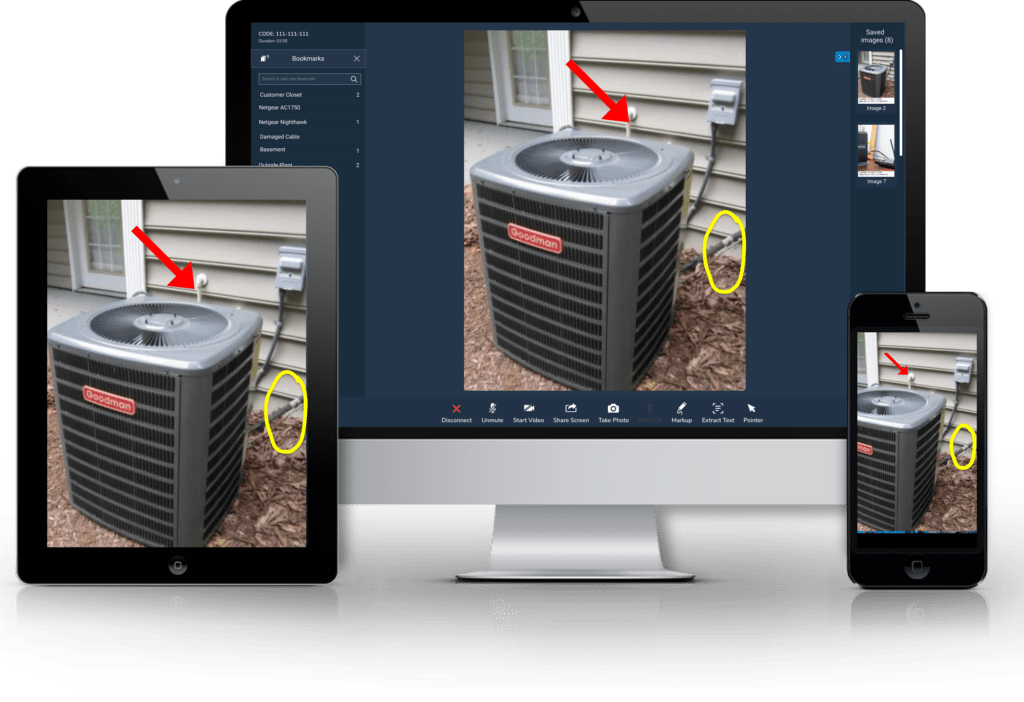 Blitzz is a remote visual support tool for providing amazing customer service experiences. From the provider side, the app includes all the advanced functionality customer service representatives need, such as:
"One Click" Customer Experience - no software to download.
1:1 or Group Calls - add a team or supervisor to any support call.
Live Pointer - show the customer a live pointer on their screen to give visual guidance.
Optical Character Recognition - extract numbers and text with a click.
Web & Mobile Screen Share - Markup and annotate on the shared screen.
Perhaps the greatest part about Blitzz is what you don't have to do to use it: Clients don't have to download any software.
They simply click a link in an email or text message, and they are connected to the customer service representative. From there, they can share access to their camera or screen and the rep can see what the customer sees, as well as give detailed, visual instruction on how to fix it.
Blitzz Pricing: Starting at $35 per user per month
A Quick Note About Video Chat Tool Pricing: A lot of people mistakenly believe that robust video chat support tools must be expensive. Yet, they use video chat tools every day as consumers.
Some providers hide behind a wall of secrecy with their pricing to sort of take advantage of that assumption and keep their prices high. Since most people believe that kind of technology is expensive, it's easy to send inflated quotes. But the technology is all around us already, companies just need a little more security and a little more functionality built on top of the consumer-grade video chat tools you can get for free, like FaceTime or Skype.
It's kind of like a company using Gmail for their email provider. Most legitimate companies don't use the free Gmail, but they don't build expensive email servers either. Most companies today just upgrade to the commercial-grade Gmail, which is the Google Workspace (G Suite). It's affordable, and users get to have the same easy software experience at work that they have in their personal life.
Video chat support tools are kind of like that.
People use video chat all the time in their personal life, and providing that same feeling through customer support is a huge boon for businesses. But that kind of technology doesn't have to be expensive.
At Blitzz, our prices start as low as $35 per user per month. You can jump into a 14-day free trial - no credit card required - by clicking here. Try it out and see for yourself how powerful the app is, and how easy it is for your customers.
Voice Customer Service
Providing customers with a great experience on the phone is still critical for a lot of businesses. Companies that rely on call centers to field customer service requests, and even provide a level of service over voice, the cloud-based Talkdesk and Aircall are two solutions worth considering.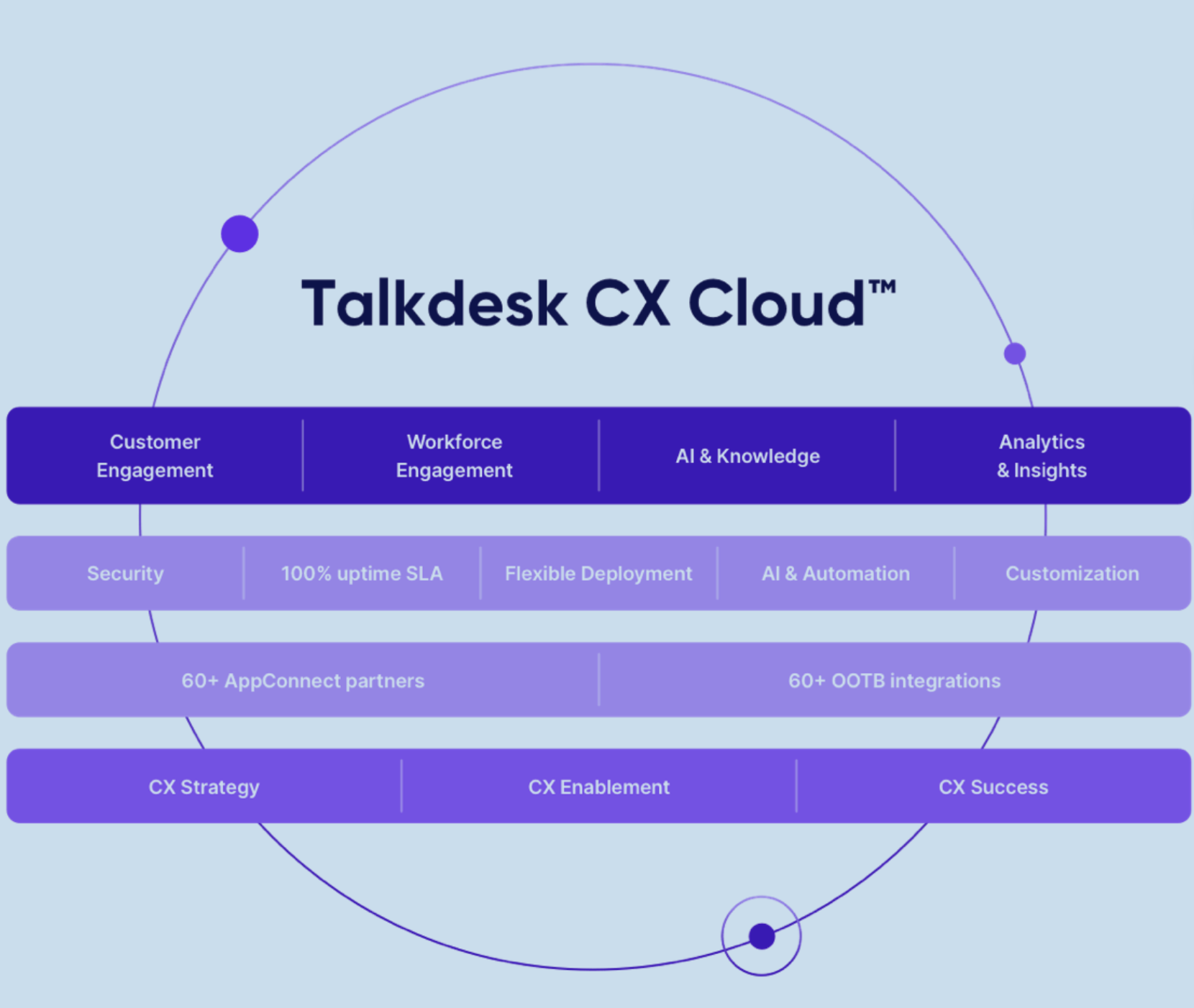 Talkdesk gives you the flexibility to manage your contact center with cloud functionality and flexibility. The platform is robust, giving you advanced functionality like speech analytics, artificial intelligence for virtual agents, mass texting integration through salesforce, and matching "call from" numbers to the same area code as the call recipient.
As far as pricing goes, they try to keep it a secret, which is unfortunate. We see this across the customer service technology industry, and we think it should change. Transparent pricing is a much better model and builds trust between the customer and the provider.
Talkdesk Pricing: Custom Quote Required
Note: third party references state that their pricing starts at $29 per user per month. However, we cannot verify the accuracy of this report. If Talkdesk is a solution provider you are considering, we recommend requesting a quote directly.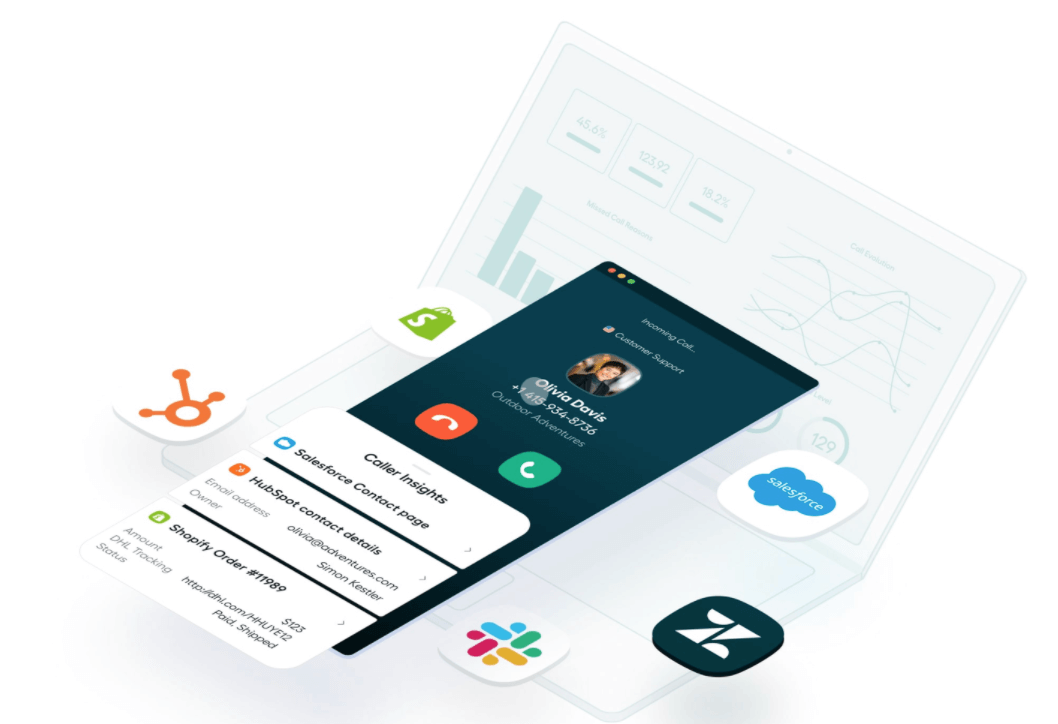 Aircall is a cloud-based voice provider as well, with a specialized offering for call centers. Aircall requires no technical consultants or complex gadgets. All you need to get started is a computer, headset, and an internet connection.
When it comes to setting up their software for your call center, they claim that you can have it all ready to go in a matter of minutes. All you have to do is invite your agents, organize your workflows, and then your call center is open for business, even with a remote workforce.
The call center feature set is also robust, with analytics, conferencing, call queuing, and the ability to blacklist spam and bots.
Aircall Pricing: Starting at $30 per user per month.
Note: The professional tier starts at $50 per month per user, and gives companies a richer feature set with Salesforce integration, live call monitoring, and advanced customer support features like Queue Call Back.
Meeting-Based Customer Service
Remote customer service sometimes revolves around meetings with the customers. In times past, meetings in boardrooms were the staple. Today, these meetings are often global, and even when they are domestic, more and more companies are opting for a virtual boardroom to save on travel, limit unnecessary exposure during a health crisis, and embrace the convenience and efficiency of modern meetings technology.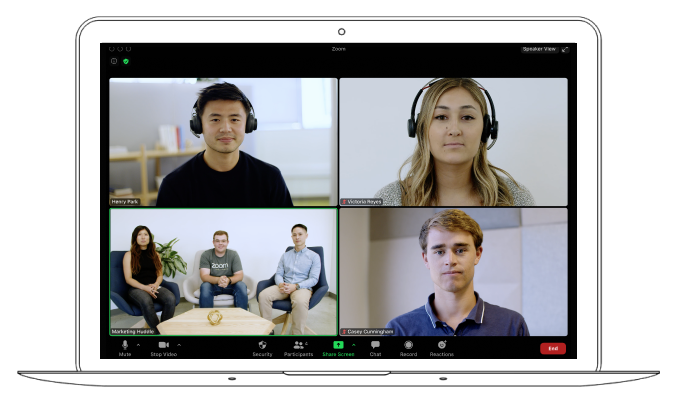 If you were unfamiliar with Zoom prior to the Covid-19 pandemic, there's a good chance you are now familiar with the virtual meeting software. Pre-pandemic, Zoom was a typical software choice for companies who wanted to host webinars and remote teams who needed a camera + screen-sharing option for collaboration and support.
Today, Zoom offers a suite of tools that would make it a welcome addition to companies that rely on meetings to drive their customer service. The newer offering is Zoom United, which provides a suite that includes their meeting and chat software, as well as a phone service option.
Zoom United Pricing: Starting at $250 per user per year.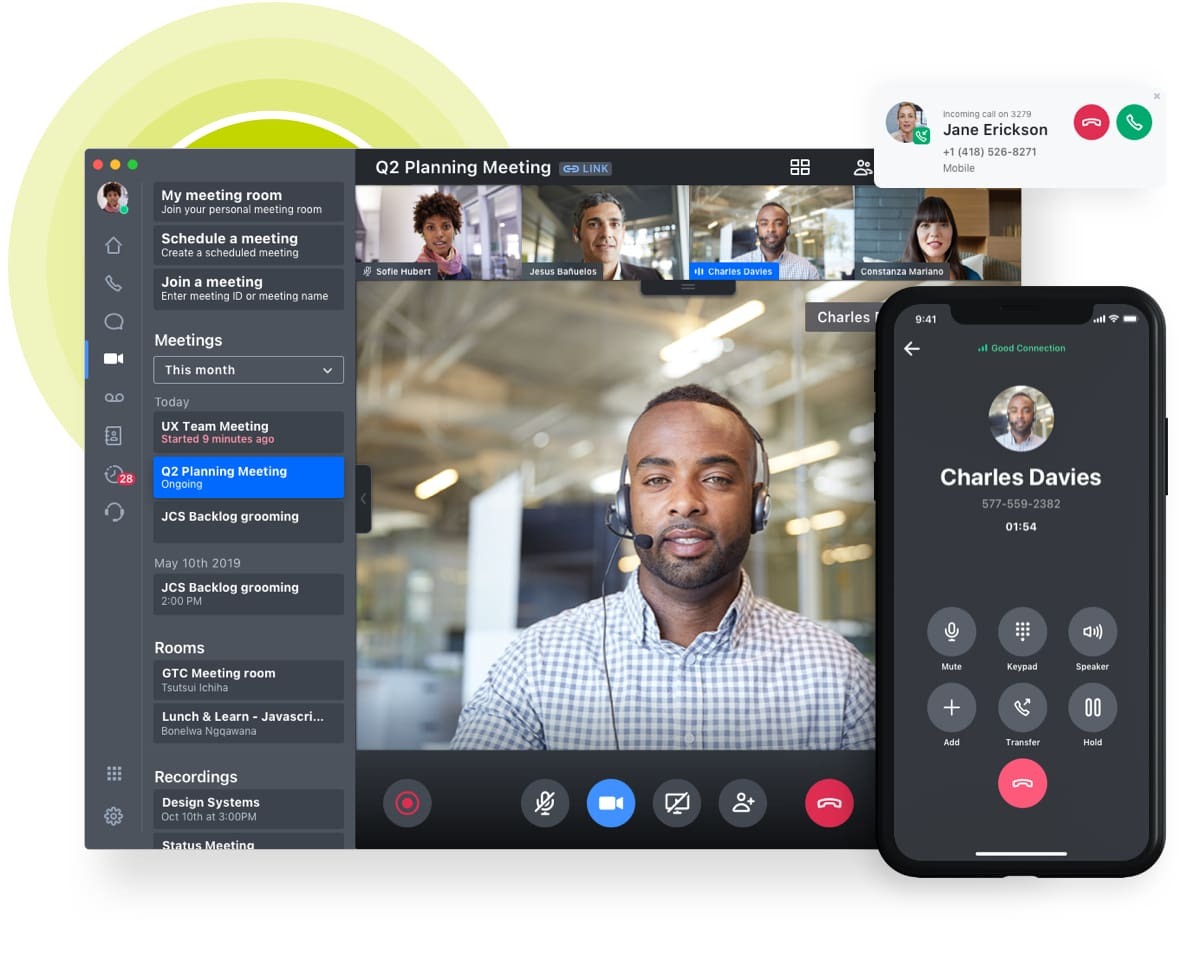 Similar to Zoom, most remote teams that rely on virtual meetings to work and provide customer support are familiar with the GoTo lineup of software options. GoToConnect is their offering that is much like Zoom United, including business phone service, online meetings, and chat functionality.
For companies looking for an additional slate of tools to their customer service stack, the premium pricing tier of GoToConnect includes their support center and other exclusive features.
GoToConnect Pricing: Starting at $49.00 per user per month.
Easy Remote Customer Service Experiences
Today, the experience of customer service is usually graded on two things:
Did they solve my problem?
Was it easy to get support?
When a customer needs support, they want to get their problem resolved as quickly as possible. That's why, if you provide remote customer service over a telephone call, that phone call needs to deliver a positive experience, as opposed to never-ending menus, rerouting, call forwarding, and waiting on hold for hours on end.
When you're providing visual customer service, the customer should not have to download and install a complicated piece of software or app. It should be as easy as clicking a button, which is why we developed Blitzz to be as easy as possible for both the operator and the customer. And if you want to give Blitzz a test drive, we made the trial super easy to get as well, just click here.
To provide those frictionless customer service experiences, you will need to invest in the right tools and software. While the right tools don't need to be overly expensive, the lowest price should not be the prime decision-maker. Instead, it should be a consideration between cost and value. If the value is worth the expense, you can build a reliable and robust tech stack for your team.