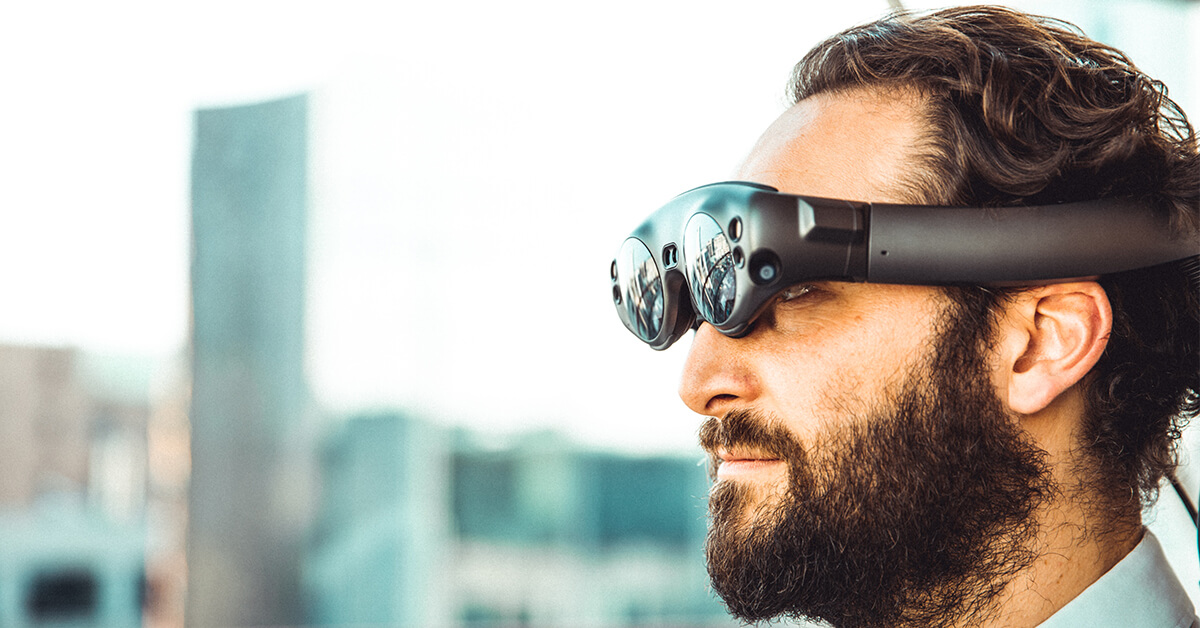 Consumers read "smart glasses" and likely think of Google Glass's historic flop. Business leaders, however, might think of a different story. While this may not have been Google's intention when they launched these AR-enabled wearables, the product they delivered has become integral to industrial operations.
Industrial smart glasses can revolutionize inspections and audits, too. But you'll need a roadmap to optimize this tech for your business needs.
Here are four things to consider before introducing smart glasses at your organization.
#1: Understand the Key Use Cases for Industrial Smart Glasses
Inspections and audits often involve a lot of hands-on work, with frequent pauses to read handheld instructions or checklists. Each pause uses up valuable time and can slow down the overall pace of each manual task.
I like to compare this problem to baking a cake. If you're watching a video recipe and need to pause, you have to set down your mixing bowl, wash your hands, and then handle your device. That's both inconvenient and inefficient. But what if you could see instructions through a pair of smart glasses? You could use voice commands to display your recipe at the pace you prefer.
Industrial smart glasses can benefit troubleshooting, inspections, and audits in a similar way. When workers replace handheld pads or devices with smart glasses, they can free up their hands for important tasks. By eliminating the need to context-switch for next steps, smart glasses can help workers save time on each job.
So, what are the best field applications of smart glasses today? Industrial smart glasses have two major hands-free use cases:
Remote video troubleshooting, inspections, audits: Someone on-site uses their glasses' video feed to show their equipment to an offsite subject matter expert (SME). The SME can deliver instructions over an AR-enabled live video call.
AR-guided field work: The glasses display instructions; field technicians, inspectors, and auditors can help themselves by interacting with the software on the smart glasses.
The most versatile smart glasses will have both functionalities embedded. This way, your inspectors can receive immediate expert help when needed – and they're equipped to be productive on their own.
To gauge whether these use cases can benefit your organization…
Chart your employees' current workflow.
Identify tasks that require written or oral instructions.
Determine whether you can relay instructions using AR or remote communication.
#2: View Things from the Wearer's Perspective
Your inspectors and auditors already use plenty of equipment that requires specialized training. Industrial smart glasses shouldn't make their jobs more difficult – they should be easy to use and maintain.
For example, think about an inspector recording images of an HVAC unit. Would you ask them to take photos with a smartphone or a DSLR camera?
Chances are, you'd go with the smartphone. They're easier to use than a DSLR camera with its complicated settings and menus, and their design requires lower maintenance. These are the same factors to take into account when comparing different models of industrial smart glasses so your workers feel comfortable using them.
Along with ease of use, your inspectors and auditors likely want glasses that balance form and function. The more functionality your smart glasses have, the bulkier – and often uglier – they become. But with sleeker designs, less bulk usually translates to lower durability, which is a problem for field workers.
To balance function and aesthetics with your smart glasses…
Tailor build size and durability to your workers' field environment.
Only embed essential features to reduce unnecessary bulk.
Your field techs and other site personnel may need additional things from their industrial smart glasses. Before you introduce this tech, the best way to understand their needs is to talk to them.
#3: Calculate the Potential ROI of Using Industrial Smart Glasses
Industrial smart glasses can be a worthwhile investment, but before rolling them out to workers, you need to understand how this tech can benefit your bottom line. By saving your workers' time, smart glasses can help your company generate additional revenue and cost savings.
When your inspectors and auditors work more efficiently, they have more capacity to take on new jobs. Working more jobs means your company can earn more overall.
Furthermore, when your inspectors and auditors receive AR or remote video instructions, they can minimize context-switching and focus on their work more. A more attentive workforce benefits your company by reducing the need for rework – which requires paying for more field dispatches.
Industrial smart glasses can be expensive, but you'll know that they're worth the investment when the additional revenue and savings outweigh the upfront tech costs.
#4: Match Your Hardware to the Right Software
If industrial smart glasses make sense for your company and you've found the right hardware, your next step is to find the best software for your needs. The right digital tools can optimize your smart glasses for inspections and audits.
Your smart glasses software should provide…
Live video communication.
Two-way audio communication.
Frame capture.
AR display and markup functionality.
OCR and image recognition.
Adaptive instructions via machine learning.
Cloud-based video storage.
Blitzz's smart glasses software offers the functionality you need for the most efficient troubleshooting, inspections, and audits.
Transform Your Field Support, Inspections and Audits with Blitzz
Although early AR-enabled tech had a slow uptake, today's business leaders realize their powerful applications.
But don't settle for just any device. With Blitzz-powered smart glasses, your inspectors and auditors will have the industry-specific tools they need to work smarter every day. Need proof? Try out a demo today.