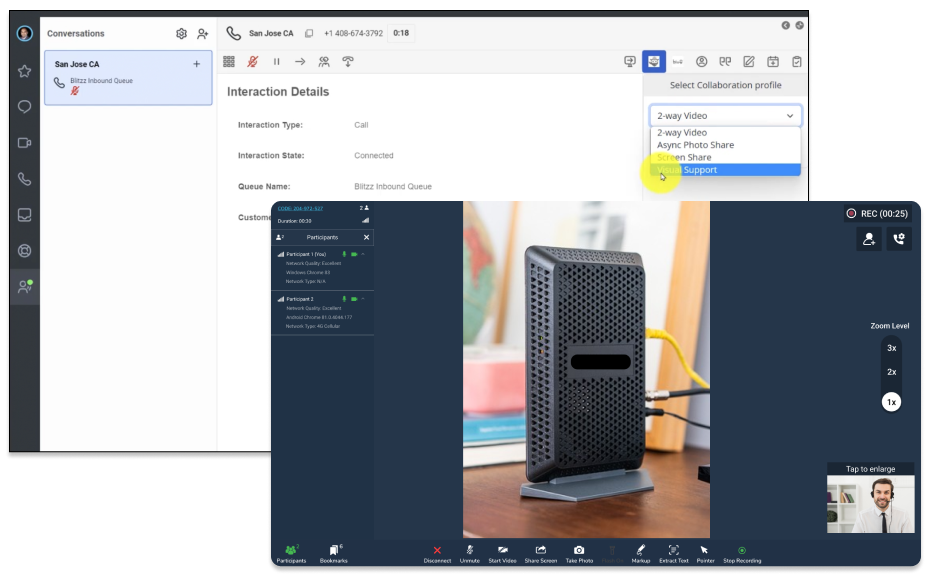 Blitzz empowers customer support agents to troubleshoot issues remotely with live video
SAN JOSE, Calif. – August 1, 2023 – Blitzz, the app-free live video tool that allows support agents and customers to look through a smartphone camera together, today announced its availability on the Genesys AppFoundry, a marketplace of solutions offering a curated selection of applications and integrations that elevate customer and employee experiences.
With Blitzz, Genesys clients simply send a link to a customer's smartphone, the customer clicks the link, and then the support agent can instantly see through the customer's camera – no app required. Support agents then visually assess questions or issues all through an interactive video call. Use cases include remote troubleshooting of consumer and industrial equipment, insurance underwriting and claims, inspections and audits, and sales calls.
"Verbal cues and descriptors severely limit a support agent's ability to solve a customer's problem, such as when a modem can't connect to the internet," said Rama Sreenivasan, founder and CEO of Blitzz. "Blitzz provides the visual empathy that support agents need to not only resolve issues faster, but also make for happier and more satisfied customers."
Blitzz provides myriad benefits for Genesys customers including…
Improved communication:

Instead of relying on verbal cues and descriptions, agents can see first-hand what customers are describing. Agents can use screen share and augmented reality features to point, zoom, magnify, and annotate on the screen in real-time.

Reduced support call times:

Support agents spend less time explaining where a button is or how to navigate to the correct control screen and more time resolving issues. Additional subject matter experts can be added to Blitzz calls on-the-fly.

Increased capacity:

Because calls are more efficient, support agents can field more support calls in a given day.

Enhanced quality control

: With the customer's approval, Blitzz can save a record of service calls for quality control reviews.

Lower operating expenses:

In many instances, Blitzz eliminates the need for on-site support that requires travel time, gas, and dedicated support vehicles.
Blitz is now available with Genesys Cloud CX™, an all-in-one composable solution that helps organizations offer frictionless and connected customer and employee experiences. As a modern, API-first experience orchestration platform, Genesys Cloud CX enables organizations to coordinate every interaction and touchpoint through a full suite of omnichannel options, built-in employee experience, turnkey AI and end-to-end journey optimization.
To learn more about the specific features and benefits of Blitzz, visit the Genesys AppFoundry.
About Blitzz
Founded in 2017, Blitzz helps companies save time and money by empowering customer support, field service and sales teams using video and augmented reality to get more done faster and safer. Through its live mobile video platform, companies can support customers and their own employees with technical troubleshooting, inspection, audits, insurance claims, maintenance, and customer support – entirely remote and app-free. Blitzz facilitates millions of minutes of video monthly across a range of industries, including telecommunications, automotive, construction, power and utilities, insurance, and more. For more information about Blitzz, visit www.blitzz.co.