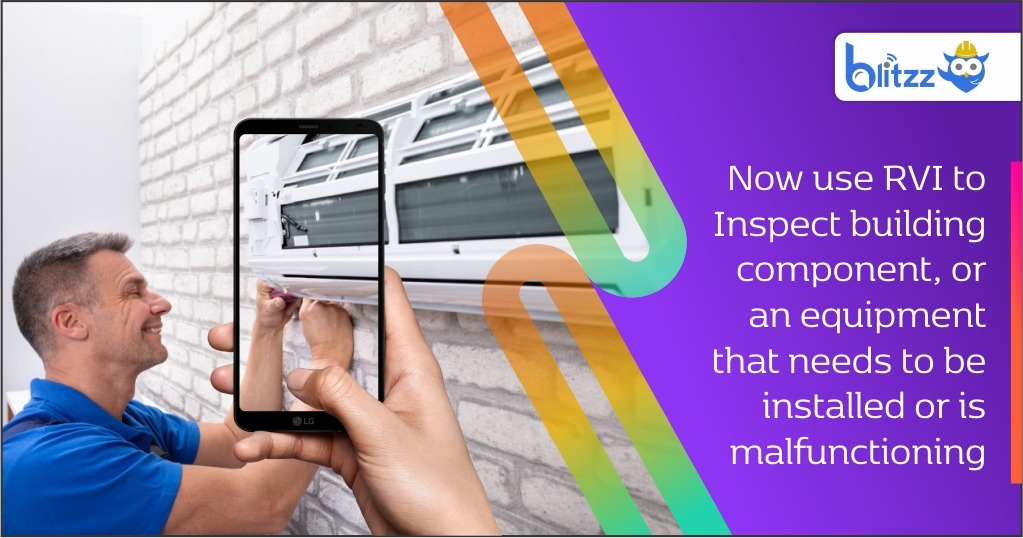 What do Augmented Reality (AR), Artificial Intelligence (AI), Big Data, the cloud, IoT, and wearable devices have to do with on-site inspections?
Absolutely everything.
Leveraging this type of technology helps you maintain business continuity despite disruptions. In an era of digital connectivity and innovative services, technology is changing the landscape of on-site inspections and presenting customer-centric solutions that can drive digitally-enabled organizations to greater efficiency and profitability.


What is a Remote Video Inspection (And What Are The Benefits?)
Remote Video Inspection (RVI) uses video technology to inspect a building, a building component, or an equipment that needs to be installed or is malfunctioning. It can be used to finish the permit process or remotely troubleshoot issues that require an expert to fix.
Why is RVI so popular? The onset of the Covid-19 pandemic in early 2020 changed the inspection industry. With shelter-in-place orders in various countries, the demand for Remote Video Inspection rose dramatically. The solution was not only safer in the face of a global pandemic, but proved to have uses and benefits outside of virus-related lockdowns. Thanks to these benefits, RVI is a solution that is here to stay.
What are the benefits? Video technology provides inspectors and troubleshooters eyes on the problem without having to leave their office or home. RVI offers a customer-centric solution that leads to less equipment downtime and creates savings on the commute, car wear and tear, and time to perform the inspection. These benefits can make RVI an attractive option for inspections and field service businesses.


When can Remote Video Inspection be used?
You can use RVI to evaluate commercial and residential buildings for electrical, mechanical, and plumbing inspections, as well as perform vendor and other industrial inspections. Because of its time and money-saving capacity, RVI has grown in popularity with county and city building departments as an alternative to on-site inspections. The application, review, and approval of permits can be conducted electronically. Many counties and cities are now allowing the use of RVIs to complete the process of obtaining permits for residential construction, electrical reconnects, heating and air changeouts, reroof inspections, rooftop solar, new spa connections, and more.
But RVI isn't just for obtaining permits. Any business with field service can benefit from the use of RVI. It is widely used in manufacturing and industries like aerospace, agriculture, construction, transportation, maritime, and telehealth.


What technology is needed for an RVI?
Customers, contractors, inspectors, experts on call need to have a smartphone, tablet, or laptop equipped with a camera and an Internet connection. When you use an advanced tool like Blitzz, no app download is necessary. Inspectors simply share a link via SMS, email, or WhatsApp.


How to conduct an on-site remote video inspection?
The only difference between conducting an on-site inspection and a remote inspection is that the latter is done via an Internet connection using video technology and the former is done in-person. The remote video inspection process mirrors the physical inspection in its scheduling, coordinating, documenting, and processing.
However, Inspectors may need to reschedule RVIs if the lighting, Internet connection, or other conditions are not conducive to a reliable inspection.


Steps involved in a Remote Video Inspection
Step 1: Scheduling and Preparation
You will schedule the inspection for a specified date and time. Who should be present? The customer, the person who has done the work to be inspected such as a contractor, and the inspector. If needed, an expert can be added to the video call to offer expertise.
You may need to keep approved plans and any associated documents handy during the inspection to verify dimension, spacing, number of items, along with a tape measure, flashlight, step ladder, etc.


Step 2: Guiding Your Customer Through The Inspection
At the appointed time, invite the customer to a Blitzz video call via SMS, WhatsApp, or email. All the customer has to do to connect to the video call is to click on the link that has been sent. Be sure that the devices you are using to connect are fully charged. Turn off notifications as these may interrupt or freeze the video inspection and delay it. Use earbuds with microphones for clearer communication. Turn off any noisy equipment/appliances..
It is important that the inspector provide clear directions regarding the camera view. This ensures the inspector is able to see the elements they are inspecting properly. The inspection process may involve the verification of dimensions. This can be done by the customer or someone else on-site with a tape measure.
Advantage of Blitzz: The inspector has access to the full range of Blitzz features and can operate the camera zoom, move the camera to a different location, etc. Both parties can collaborate, dialogue and document each stage of the inspection. Features allow members to annotate, lift text such as serial numbers, capture visuals, record the video for documentation or training without compromising on data security.
Tip: Maintain an open dialogue during the video inspection and clear any doubts.


Step 3: Sign-Off and Follow-Up
If the inspector is satisfied that all compliance standards have been met, the last step is the sign-off process. This may be done electronically or by other means as per local department guidelines. Generally, approvals are given on the same day.


Rolling Out Remote Field Service with Blitzz
The future of any field business lies in harnessing technology to improve customer satisfaction, increase productivity, and efficiency. Contact us today for a free demo and let's discuss how Blitzz can work for your business.