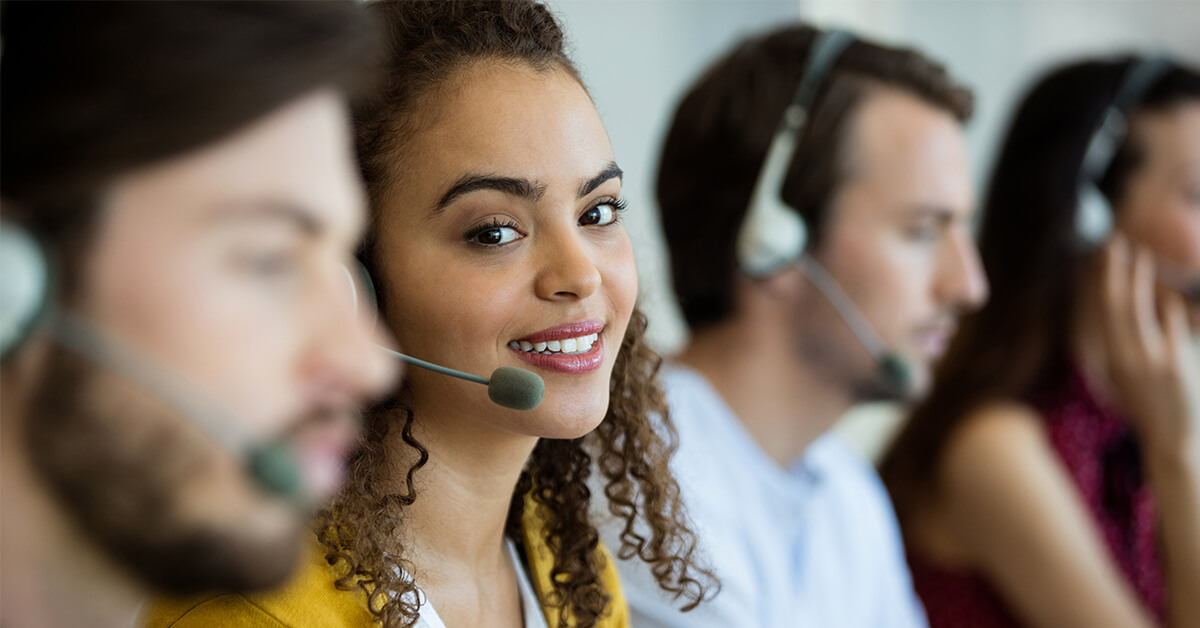 How is your customer churn rate? Customer retention is vital in every industry, but it's crucial for SaaS businesses. The average B2B annual churn rate is 24%, but an estimated churn of 5-7% is recommended for success for SaaS businesses. What customer experience tools and tricks can we use to increase retention dramatically? When we're looking at keeping those customers returning, we turn our attention to raising CSAT scores.
What's the most frustrating customer support experience you've ever had —from the customer side? Chances are you can remember it vividly, from the way the customer support agent was snapping their gum to the emotions you felt. You hope the customers calling your support line never have that experience, but how can you be sure? Is there something you can be doing to improve customer experience? Are there SaaS customer support best practices you can follow for consistently incredible results?
This post will cover our top 5 SaaS customer support best practices to help your CSAT scores skyrocket in 2022.
SaaS Customer Support Best Practices: Customer Service Trends
Before we give you our secret formula for CSAT success, let's establish a few truths about the current environment of customer service:
Rising Customer Expectations:


Customer expectations are on the rise! According to a Microsoft survey, 54% of consumers admit their expectations for customer service are higher than they were last year at this time.



Personalization is King:


Customers expect to be more than a number to your company. They want to receive personalized experiences. 48% of customers even expressed a desire to be rewarded with special treatment for being a good customer.



Loyalty isn't Guaranteed:


Speaking of loyal customers, they're more challenging to find. As customer expectations increase, their tolerance for poor customer service plummets. A reported 89% of customers have switched providers immediately following a subpar customer service experience.
In short, customers have many options in the current marketplace, and they aren't afraid to switch providers if their service expectations aren't met. You want to ensure your organization offers the best service experience possible: Blitzz is here to help. We're always watching support industry trends, and we've helped dozens of our customers implement solutions to boost their CSAT scores. Let's dive into the details of our top 5 SaaS customer support best practices for 2022.
1. Think Proactively
Ever heard the saying, "The best defense is a good offense"? It applies to your customer support efforts, too! You can really "wow" your customer if you anticipate their issues, solving them proactively before they even bring the problem to your attention.
Use the reporting features of your customer support tool to identify patterns in recent customer complaints and bugs. From these patterns, you may be able to understand technical issues, enabling you to resolve them on the back-end or contact customers proactively, offering to assist them with the case in question.
Related Read: Solve Customer Service Issues 10x Faster with Remote Support
Another proactive approach is to compile a list of commonly asked questions. Survey your support agents or review call logs to compile this list. Then, you can automate a chatbot or create self-service support resources containing the answers to these questions. This measure will ease up the traffic on your support line while still allowing customers to get the support and assistance they need.
2. Get Feedback
How will you know if your customers are satisfied with your support efforts? You'll have to ask them.
If you're measuring CSAT scores, you're already getting some customer feedback, but when it comes to feedback, the more data you can get, the better. Instead of just surveying customers at set times throughout each quarter or year, you should try to assess customers immediately after their support case. This tactic will allow you to get feedback when your customers' memories are still fresh.
Logistically, it can be tricky to get timely feedback from customers consistently. We recommend using remote tech support software with built-in customer survey capabilities, like Blitzz. When you use Blitzz for your customer support calls, the software automatically sends a customer survey after each call. This automation takes the onus of remembering to ask for feedback off of your team and into the hands of your support tool.
This best practice doesn't stop at the survey, though! To make the most of your customer feedback, ensure you have procedures to act upon that feedback to improve your processes. Examine customer criticism regularly, looking for patterns that may identify weak spots in your current processes.
3. Invest in the Right Tools
Would you rather dig a hole with a soup spoon or a spade? It's a silly question, but sometimes, trying to support your customers with the wrong tech stack can feel a lot like digging a hole with a spoon.
What tools do you need to offer incredible customer support in 2022? You'll want to ensure you've implemented the essentials:
CRM:
A Customer Relationship Management tool is invaluable. This tool will help you gather and organize all customer information, including contact information, purchase history, previous support issues, and more. You can segment your customer data for targeted outreach, ensuring your customers feel supported at all times.


Interactive Voice Response:
We've all heard that customers don't want to talk to robots: They want to talk to real people. Even so, an IVR can streamline your customer support line by serving as a triage station, ensuring that customers reach the support agent most likely to be able to assist them.
Related Read: The Easiest Call Center Software to Connect with Customers
Self-Service Resources:
Your customer support agents will be on standby to provide excellent service, but some customer issues don't need to tie up your phone lines. Create a knowledge base, or chatbot customers can access and interact with for simple, easy-to-answer questions like login issues.


Remote Video Support:
One must-have tool for modern SaaS customer support is a remote video support application.

Everyone is trying to do more with less

in the current economic climate. Remote video support allows you to deliver the same incredible face-to-face service and support customers love about on-site visits while saving you on truck rolls. Advanced tools like Blitzz offer features like augmented reality and OCR-based text extract. These types of augmented reality CX tools make solving customer issues remotely a breeze.
When you invest in the right tools for your team, you'll see your CSAT scores climb.
4. Track Multiple Metrics
You know how important CSAT is for measuring the success of your customer support efforts, but it's not the only customer service metric you should be addressing. Let's go over a few other key metrics you'll want to keep an eye on in 2022.
First-Call Resolution
First-call resolution refers to the percentage of customer issues resolved upon their first contact with your support center. Customer issues that require customer callbacks or scheduling an on-site visit aren't resolved in the first call.
Related Read: Solve Customer Service Issues 10x Faster with Remote Support
It can be tricky to increase your FCR using audio-only customer support. With a remote video support tool, customers can schedule a face-to-face video call, allowing your support agent to get eyes on the problem from the beginning, significantly increasing your chances of resolving the issue in that first session.
Average Handling Time
What is average handling time? Average handling time boils down to the amount of time a customer spends contacting your service team before their issue is resolved. This calculation includes time spent on hold and in conversation with support agents, as well as any time support agents spend troubleshooting offline.
Success in first-call resolution and average handling time contribute to your CSAT score in many ways. For instance, who will be more satisfied? The customer who calls your support line three times, waits on hold 45 minutes each time, and goes away without a satisfactory answer, or the customer whose issue is resolved in a single, hour-long remote video call? It's no contest.
Lower AHT and higher FCR almost always result in higher CSAT scores.
5. Incorporate Visual Empathy
Have you ever heard someone complain about how impersonal customer service processes have become? Surveys indicated that 88% of customers want to talk to a live customer service agent to resolve their issues.
Though efficiency is essential in modern customer support, we can't ignore that human connection is still the most powerful element of strong customer service.
What is visual empathy? Visual empathy refers to seeing and interacting with another person face-to-face. This face-to-face interaction allows us to see the other person's emotions, inciting greater feelings of empathy and connection.
When customer service is conducted over the phone or via live chat, it can be difficult to see where the other person on the line is coming from. In other words, it's much easier to become frustrated with a disembodied voice on the phone than it is to feel that same frustration face-to-face. When you incorporate visual empathy into your customer support efforts, your customers will feel cared for. Your support agents will benefit, too—after all, visual empathy is a two-way street.
Visual empathy can also assist with first-call resolution. When communicating over the phone, it's easy to have miscommunications and misunderstandings. If a customer isn't familiar with the product they need help with, they may have trouble understanding your support agent's verbal instructions, for example.
Implementing a remote video support tool allows you to maintain the convenience of a remote call center while still providing the visual empathy and human connection that customers crave from their support experience.
Raise CSAT Scores with SaaS Customer Support Best Practices
Following these five best practices will give you and your support team the foundation you need to raise your CSAT scores in 2022. Today's customers value speed, efficiency, and personalization. Investing in the right tool can assist you in everything from proactive reporting to incorporating visual empathy. Tracking KPIs like first-call resolution and average handling time will provide you and your team with all the data you need to improve customer experience and delight your clients.
When it comes to customer support tools that can delight even the most particular of clients, Blitzz has you covered. Our remote video support platform offers robust features like augmented reality, video conferencing, advanced reporting, and more. Take the tool for a free test drive today to experience it firsthand!